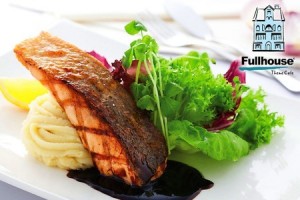 Fullhouse Theme Cafe is offering Cash Voucher at Special Discount!
Promotion Highlights
Up to 140 menu items including signature dishes such as steak ciabatta, Tony's teriyaki chicken burger, roast braised half chicken, spicy carbonara, and al-funghi spaghetti.
Victorian-themed cafe space store.

Get your discount voucher now and enjoy storewide 35% discount!
~Purchase this voucher to enjoy this offer~
About Fullhouse Theme Cafe
Wistful younglings amble past manicured lawns into cafes resembling lifelike dollhouses complete with Victorian-themed interiors and playful cartoon menus. With luxurious chandeliers, endearing decorations, and picturesque backdrops, you may add to the precociously varied atmosphere by sampling a wide range of fusion food such as tangy salads, smouldering pastas, arty mains, and petite cakes.
Is Fullhouse Theme Cafe is a Halal restaurant? It does not serve pork or alcohol on its menu.
Location Map for Fullhouse Cheras